There are so many Canadian cloth diapers and accessories out there. I wanted to be able to share this awesome giveaway with all of you and spread the Canadian love! It is open to both US and Canadian residents. Please check it out, you might see something new to try!
Welcome to the Made in Canada Baby (#madeincanadababy) Event, hosted by Canadian cloth diaper bloggers Thinking About Cloth Diapers and Maman Loup"s Den. This event runs from June 22th to July 6th, with daily entries and a special bonus for Canada Day (July 1st)!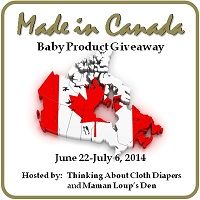 Oh, Canada!
This event will showcase the wonderful works of many cloth diaper makers and other family-owned Canadian businesses from right across Canada. Discover brand new brands and revisit old favorites as you scroll through our list of wonderful sponsors.
More than 35 sponsors have come together in this massive giveaway to help us bring you close to $1,500 in prizes! We will be offering 3 wonderful truly Canadian prize packages, each with a value just under $500, as shown below. Each package contains a beautiful array of Canadian-made baby products for the little one(s) in your life! Many of the items are from brands that seldom participate in giveaways, so you definitely don't want to miss this rare chance to win them!
Prize 1
Bummis was founded in 1988 and is still operating out of Montreal, Quebec. When it comes to fun in the sun, Bummis has you covered from the bottom up! They will be offering one lucky winner a sun package including one sun cap, one UV tee, and one Swimmi in the size, print and color the winner chooses – all made right here in Canada! Retail value $55.
From Abbotsford, BC, Mally Designs Ltd. makes stylish leather bibs, luggage tags, passport holders and more! One lucky winner will receive a beautiful baby or toddler bib in their choice of color and design. Retail value $45.
Gamine & Cie is a Canadian company based in Boucherville, QU that offers a collection of charming hand-made dolls, waiting patiently to be adopted and cuddled by the little ones in your life. They are offering one beautiful rag doll to the winner. Retail value $55.
Whether you have little ones headed to the swimming pool, day care, or summer camp this summer, you'll love the prize from Lovable Labels Inc. Keep your kids' things out of the lost and found bin with the Ultimate Camp Pack, which includes waterproof, UV resistant peel-and-stick labels and bag tags! Retail value $44.95
Flip Size offers the highest quality brand-name used children's clothing at prices that can't be beat! Here is a chance to try out Flipsize with a $30 gift certificate.
From dryerballs to laundry soda, and everything in between Nellie's All Natural, from Vancouver BC, will provide an exceptional clean and help your family go green. They are offering one lucky winner a 100-load tin of Nellie's All Natural Laundry Soda. Retail value $
21.
Little Miss Bows and Bands makes headbands, clips, ties, and bow ties for you and your little one! One lucky winner will receive a gift certificate toward any Little Miss Bows and Bands product from this business in Ajax, ON. Retail value $25.
Pixie and Me Diapers, from Brockville, ON, sells handmade hybrid fitted and all-in-two diapers in newborn and one-size options, plus hazelwood jewellry. They are offering a beautiful "mom and tot" hazelwood hecklace set for you and your little one. Retail value $29.50.
From their home studio in Woodstock, ON, Janine's Place, uses upcycled wool to make wool diaper covers, teething toys, slippers, and more. One lucky winner will receive a pair of Size 12-18 month handwoven wool slippers with an organic liner and anti-slip suede sole. Retail value $32.
Ellie & Sabrina, from Edmonton, AB, makes products including car seat covers, wool dryer balls, wet bags, and reusable snack bags. They are offering a Hide and Peek Nursing Cover made of machine-washable cotton, featuring a stiff top edge to allow airflow and eye contact between mother and baby. Fabric may not be as pictured. Retail value $24.
From Summerland, BC,LalaBaby Designs makes adorable hand-made diapers to keep your little ones snug and dry, plus snack bags, wet bags, diaper pants, cloth wipes, and suck pads for baby carriers! One lucky winner will receive an all-in-two diaper with a 4-layer organic bamboo fleece snap-in petal insert, and a wipeable PUL cover. Retail value $23.
Création Folie Plastic is a fun Etsy shop from St-Gilles, Québec. From bibs and super hero capes to teethers and pacifier clips and more, owner and designer Audrey Caron brings fashion to fuctional items. She is offering a pair of hand-made baby leggings and a matching teething/babywearing necklace (made of Canadian wood beads with a bamboo string) for mama! Retail value $40.
Cloth diaper retailer Cozy Bums is based out of Prince George, BC. They offer free shipping on orders over $99, and sell a wide variety of products including Canadian brands Bummis, AMP, Applecheeks, and more! They are offering one lucky winner an AMP Duo One-Size diaper and a 2-layer AMP hemp insert. Retail value $25.50
Green Bumkin is based out of Kemptville, Ontario. Owner and designer Amy Lanctot sews all-in-ones, all-in-twos, and the most amazing one-of-a-kind diapers featuring her intricate appliques. Her diapers sell out of her Hyena Cart store quickly, and so we're excited to offer a custom embroidery slot (you choose the design!) for either a one-size all-in-one or all-in-two with insert. Retail value $32.
Harp Diapers are made by single work at home mom, Deborah Plett, who specializes in cloth diapers and accessories. If you're looking for a custom diaper, Deborah's up for the challenge! Her unique diapers, which often feature vintage cartoon prints, stock on Hyena Cart. For the Made in Canada event, Harp Diapers is offering a $35 store credit!
Prize 2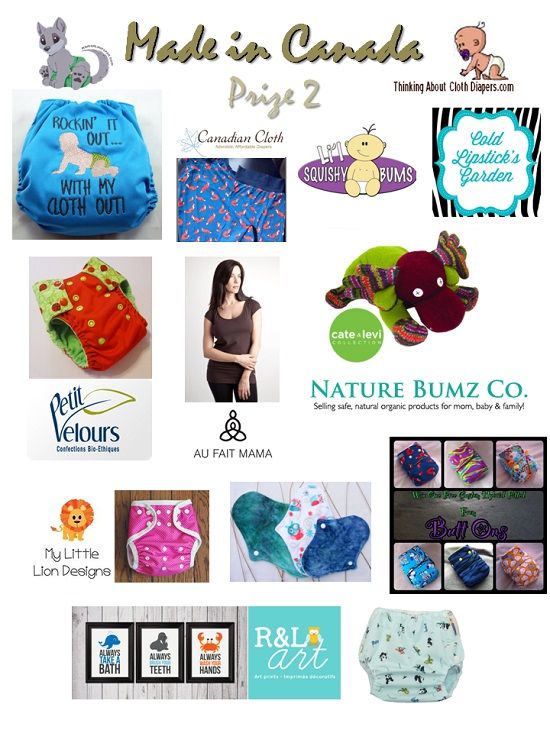 Petit Velours is based out of Val-David, QC, and makes custom diapers, and also sells diaper-making fabrics and gives classes for mamas who wish to sew their own diapers. She is fluent in English and French and ships worldwide. Petit Velours is offering one lucky winner 2 diapers – a one-size pocket diaper (8-15 lbs) with insert, and a night-time fitted diaper in size medium-long (18-35 lbs). Retail value $50.
Rainbows & Lollipops offers unique and special hand-made prints to decorate your baby's nursery, bathroom, and playroom! Based in Nicolet, QU, Marie works with customers to custom-design art to fit their decorating vision. One lucky winner will receive a $35 gift card and free shipping. Retail value $50.
Au Fait Mama provides breastfeeding apparel that helps you feel and look good. Their nursing shirts and dresses, made in Vancouver, BC, grow with you from maternity to nursing and beyond! A very lucky winner will receive an Au Fait Mama Nurture T-Shirt, made of luxuriously soft and stretchy bamboo fabric. Retail value $72.00
From their Toronto studio, Cate and Levi makes stuffed animals, puppets, and other beautiful products from reclaimed wool whose colors and textures are individually selected. Your little one will love to adopt one of their beautiful one-of-a-kind creations! In honor of Canada Day, they are offering a Moose stuffed animal made from 100% reclaimed materials. Retail value $60.
Cold Lipstick's Garden is based in Morinville, AB, and crafts custom accessories including hats, headbands, ties, baltic amber teething necklaces, leggings, and more! One lucky winner will receive a made-to-order teething distraction necklace. Retail value $20.
Lil Squishy Bums, from Guelph, ON, sells hand-made cloth diapers and accessories. The winner will be able to select an in-stock product of their choice – a fitted diaper, pocket diaper, or squishy butt pants! Retail value $25.
From Sault Ste. Marie, ON, Canadian Cloth Shop makes diapers, wipes, children's clothing, nursing pads, and much more! They are offering a Foxy Set, consisting of a 3-4T tank top and matching 2-4t capris in a very foxy print. Retail value $35.
My Little Lion Designs is owned by work at home mom Christina Kubik of East Gwillimbury, Ontario. She offers cute and durable waterproof items you will love, including wet bags, pail liners, diaper covers, and bibs. She also welcomes custom orders, so please feel free to contact her with special requests! She will work with one lucky winner to design and sew a custom one-size PUL diaper cover or swim diaper from her in-stock fabrics. Retail value $17.
Bottoms Up Cloth Diapers
is a new cloth diaper boutique based in Aldergrove, BC. They offer free shipping on orders over $50, and carry brands including Funky Fluff, Lil Helper, and Mother Ease. The winner will receive a Mother-Ease cloth diaper product of their choice, with a value up to $24.
Nature Bumz is a Canadian family-run cloth diaper retailer based in Ontario. They carry a large selection of Canadian and US-made cloth diapers, including AMP, Applecheeks, Bummis, and more! They offer free shipping on all Canadian orders over $75. They are offering 2 lucky winners a $50 Gift Card for any purchase from their on-line store!
Natur-ELLE Cloth Pads are made in Moncton New Brunswick by Genevieve Losier. For our Made in Canada celebration, The Cloth Canoe Natur-ELLE Cloth Pads is giving away a gorgeous assortment of minky and organic bamboo velour cloth pads! The set of cloth pads includes one 11 inch heavy pad, one 9.5 inch regular pad and one 7.5 inch pantyliner. Retail value $38.50.
Ella Bella Bum cloth diapers are made by Sam Campbell and her team of production assistants and local seamstresses in Welland, ON. With their creative and unique designs and exclusive fabrics, this popular Canadian brand has quickly attracted a North American audience. One lucky winner will receive a one-size (15-35+ lbs) Ella Bella Bum embroidered pocket diaper with an aqua PUL outer, and a spring green athletic wicking jersey inner. Ella Bella Bum inserts are sold separately. Retail value $30.
Butt Ons Cloth Diapers is owned and operated by Hollee Tilma from Alexandria, ON. She sews fun and unique cloth diapers, including her popular fleece RONO over-night diapers. Inspired by their chunky-thighed heavy wetters, every Butt-On uses hidden layers of heavy poly fleece and/or bamboo fleece to contain leaks. One lucky winner can work with Hollee to choose a custom hybrid fitted diaper! Retail value $30.
Prize 3
The sisters behind Öko Creations began designing and manufacturing environmentally-friendly textile products in 2009, and their products are now sold by more than 50 retailers across Canada. One lucky winner will receive an Öko Creations Bath Poncho made of organic cotton. Retail value $46
From Niagara Falls, Ontario, Cotton Candy Eco Cloth is offering a cloth pad sampler kit including a light, moderate, and heavy cloth pad in nautical themed prints. Retail value $27.50.
Buncha Farmers is based in Stoufville, ON, and makes stain sticks, laundry detergents, and personal care products. One lucky winner will receive a prize pack including 3 stain remover sticks, 3 soaps, laundry detergent, laundry additive, 2 hand sanitizers, Manuka Honey moisturizing cream, +550 Manuka Honey facial cream, and a 30 SPF sunscreen with Manuka honey! Retail value $150.
Miss Molly Bowtique makes hair accessories for girls of all ages and is based in Comox, BC. They are offering a pack of 6 beautiful headbands to one lucky winner. Retail value $24.
Designed and manufactured in Toronto, Canada, RiNGLEY offers beautiful and safe teething toys made from 100% certified organic cotton terry cloth and untreated Maple wood from North American Maple trees that is naturally antibacterial. Their designs allow your baby to easily grip the ring and cloth, and can be used wet or dry. Your little one will love their sun-shaped teether Retail value $20.
Wee Woollies offers made-in-Canada merino wool base layers for little ones. Perfect for both winter and summer, merino provides a natural UV protection factor of 40+, while keeping your wee ones warm at their core. One lucky winner will receive a merino singlet and matching merino beanie hat in the winner's choice of size and color, great for stylish summer wear. Retail value $52.
PeepOoie Cloth Diapers sells handmade cloth diapers from her home in Sebringville, ON. One lucky winner will receive a custom one-size pocket diaper (fits 16 to 45+ lbs) with a 3 layer microfiber insert. You can choose from over 50 outer fabrics and matching minky or microfleece inners! Retail value $28.
Prize pack #3 also includes a $50 gift card from Nature Bumz, a Canadian family-run cloth diaper retailer based in Ontario. They are offering 2 lucky winners a $50 Gift Card for any purchase from their on-line store!
Ömaiki was founded in 1997 and operates in Blainville, Quebec. They sell cloth diapers, training pants, breast feeding pads, swim diapers, and more! They have offered a 3.Ö (one-size hybrid diaper and bamboo insert) in winner's choice of print and closure. Retail value $28.50.
Monkey Doodlez manufactures and distributes a wide range of cloth diapers and accessories, including diapers, swim diapers, wet bags, pail liners, wipes, and wipe cubes. Their products are sold by retailers across Canada and the US. One lucky winner will receive a swim diaper in their choice of print and size. Retail value $20.
From Whitby, ON, cloth diaper retailer Lil' Monkey Cheeks sells a wide variety of brands, including AMP, Applecheeks, Funky Fluff, Omaiki, and more! One lucky winner will receive an AppleCheeks Little Bundle in winner's choice of colour and size. Retail value $24.
Wow, that's a lot of made-in-Canada baby prizes! We would like to thank all of the generous Canadian businesses who have supported us with the amazing prizes above! Now that you've seen all of the wonderful prizes, don't forget to enter below! And be sure to support all of our Made in Canada event sponsors!
Please use the Rafflecopter form below, and good luck!
Open to Residents of Canada and US, 18+This giveaway ends at 11:59 PM EST, July 6, 2014
Winner's are:
Giveaway runs from 12:01 AM Sunday June 22 (EST) and closes at 11:59 PM, July 5th (EST). Open to US & Canada.
Disclosure: I received no compensation for this publication.Thinking About Cloth Diapers, Maman Loup's Den, and this blog are not responsible for prize fulfillment. Individual prizes in each prize pack are supplied by each sponsor, and the winner is responsible for communicating with sponsors for custom items and use of gift certificates. Winning entries will be verified. Winners will be notified by email and must respond within 48 hours or another winner will be chosen.
On behalf of all of the sponsors, we would like to thank the following bloggers for helping us to get the word out about the Made in Canada Baby Event.
Jenn is a long-time cloth diaper educator and a passionate small business advocate. She has worked in the reusable diaper industry for over a decade, helping millions of families via her websites All About Cloth Diapers, Thinking About Cloth Diapers and Cloth Diaper Geek as well as hundreds of small businesses during that time. Her goal always to provide simple, reliable information.