I want to thank my new friend Jen Varty for writing such a wonderfully informative blog post on gDiapers. I couldn't have written it better myself! I personally didn't have any luck with gDiapers. But this proves that nothing works for everyone and that is so great to have choices so we can all find something we love.
G stands for Great Diaper!
Genius, grow, grassroots, green, gentle, and genuine are some of the "G" words imprinted on the inside of a gDiaper. Some of you may use them, some of you may have heard of them, but for those of you who have no idea, gDiapers are a revolutionary diaper that offers a biodegradable, flushable insert.
The system consists of a gPant (which are made of cotton and come in very cute patterns and colours such as Go Fish Blue, Girly Girl Ruffle, and Grasshopper green), a waterproof snap in liner, and the insert, a "flushie." The flushie was designed to be flushed down the toilet (after ripping the sides, dumping the insides and giving it a swish with the special stick), or wet ones can be composted and they break down in 50 to 150 days. Or you can also throw them in the garbage because they contain no plastic to keep them from decomposing.
I got hooked on gDiapers while I was pregnant with my son. I decided from the moment of conception that I wanted to do cloth. I spent nine months learning everything I could about every kind out there. Good thing he was 11 days overdue, because there was a lot to learn. My diaper stash consisted of a bit of everything including gDiapers. When my son was a week old I started using cloth. I quickly found out that gDiapers were my favourite. At 8lbs they fit my son well. Instead of using the flushies, I trifolded an infant prefold and used that. It cut down on my laundry, because the cover and liner can be reused for multiple changes as long as it doesn't get damp or dirty. They were trim compared to other diapers and fit well under his clothes. I sold the rest of my diapers and bought more gDiapers.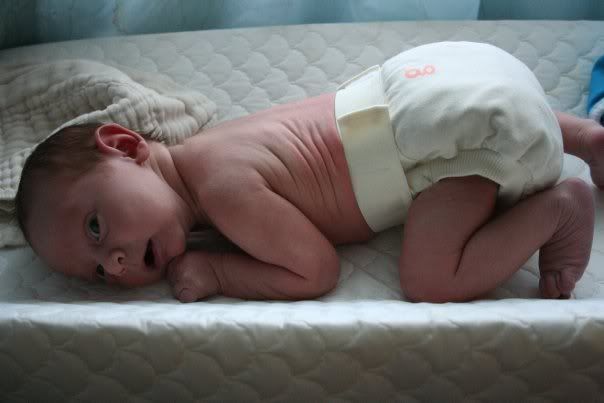 Our small stash of gDiapers contained just orange and vanilla pants, those are the two colours that come in starter packs. To spice things up I went to the local fabric store and purchased some Dylon. I dyed two of the pants blue (see below). To dye the waistband I used kool aid. They turned out great. My friend tried dying one of hers pink. I have seen people add embroidery to their little g pants, or tie dye them, the possibilities are endless.
A good stash for gDiapers would be 4-6 covers (I alternate between 2 a day and keep 2 spares in the diaper bag), 4-6 liners (you can wash these in the sink quickly and they dry before the next change if they happen to get dirty) and at least a dozen prefolds, home made inserts or gCloth (just released this week). With a dozen prefolds I was washing everyday with a newborn. I have made inserts with microfiber towels with fabric sewn on the top as another cheap alternative. I use the flushies when we go out. I get joy out of flushing an insert with a super-sucking toilet, like at McDonalds. I have never flushed one at home because our toilet is a bit sluggish and we are on septic, I don't want to risk a clog.
I have been using gDiapers for just over 4 months now. I am no expert, but I am glad I found this system and I support gDiapers 100%. We have only had a few leaks in the very beginning.
I think we had leaks for one or all of the following reasons,
a) I was doing them up too tightly (this breaks the seal, just close the Velcro where it falls, don't pull it tighter)
b) The prefolds not being fully prepped (it takes multiple washes for them to reach full absorbency)
c) My son didn't have enough "chunk" on his legs to make a good seal.
If you're getting leaks I would recommend making sure the diaper isn't on too tight, the liner is making a good seal, the liners haven't been in contact with vinegar or gone in a dryer, the liners aren't too old and have lost their elasticity. If you have tried all these things and you are still having problems, give the friendly people at gDiapers a call, they are there to help.
With all this talk about leaks I just have to say that I have never had a leak using a flushie, just when there has been cloth inside. The flushable insert is super absorbent. If you have a heavy wetter or will be going a long time before the next change you can cut an insert in half and double up on the top half or the middle depending on whether you have a boy or a girl.
The gDiapers system works great for our family. We can save money and use prefolds at home, but we are also busy and love to go to the cottage or camping for the weekend. Instead of a bringing a giant wetbag with me and having dirty diapers with us during our trip I take a package of the flushable inserts. I pack 4 gPants, 6 liners and some flushables. Then when I go home I don't have a ton of dirty diapers to wash and my shelves are full of clean prefolds ready to use. Using gDiapers fits in perfectly with our busy and hectic lifestyle.
Learning to put on a gDiaper takes a bit of practice, but really isn't that hard. First off snap in the liner, and then insert either the flushie or your cloth option. Make sure it makes a "u" shape in order to get a good seal. Lie your baby on top of it (make sure the "g" is at the back, however they do work the other way around). Do up the Velcro where it falls, and make sure the liner is inside the leg crease and has created a good seal. Now your "g" is on your ready to go.
The Top 5 Reasons Why I Love gDiapers
1)The customer service is excellent. Whenever I have had a question I have gotten a phone call back the same day or an email. They are all super friendly and love to help.
2)The ease of switching between cloth and flushable depending on if we are at home or out and about.
3)How trim and easily the diapers fit under clothing, especially newborn clothes.
4)That even if I throw the flushable insert in the garbage, I know it is not going to sit in a landfill for the next 500 years.
5)How cute it makes Luke's bum look!
Just before I end this I thought I would discuss the issue of poop, because no matter how cute or good for the environment it is, if it doesn't catch poop it's pointless right? Luke is exclusively breastfed. Therefore he has those runny, explosive poops. About 75% of the time we get poop on the liner. Not a big deal, unsnap it and either throw it in the pail with the dirty cloth (if that's what your using) or wash it in the sink and it will be dry in no time. We have only had a few poops ever make it onto the cover, and never had it get on his clothes. Looking back on my disposable days with my daughter, I remember the "up-the-back" explosions and I am happy to say we have never had anything that the gDiaper couldn't catch. Even if I have to wash the liner and cover, I don't have to wash an outfit.
If you have never heard of gDiapers, I hope you have learned a lot. If you have heard of them but felt a little confused, I hope this has cleared it up for you. If you have been on the fence for a while, I hope this has convinced you to give them a shot.
If you want more information, or want to look at the cute selection of diapers visit www.gdiapers.com
Autumn is a wife, mother, homeschool teacher, friend and most important a follower of Christ.