Recently I have been having some wicking (moisture breaking through the waterproof material onto the outside) issues with my Happy Tushies wetbag. I bought the Happy Tushies wetbag last summer and it was the only one I had until last week. Last week I bought the extremely popular Leslie's Boutique wetbag that I have been reading about for months. On diaperswappers, Leslie has received rave after rave and of course it was only a matter of time until I jumped on the wagon :)
It took me a while to figure out all the lingo I was reading in regards to wetbags. Here is a picture of the inside and outside of the Happy Tushies wetbag: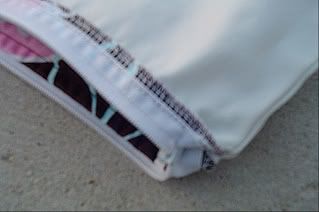 The outside fabric is a woven cotton print with a thick PUL inner. The wicking culprit can be seen in the second picture. Notice how the seam is exposed on the inside of the wetbag? Having cotton anywhere near wet items is not a good thing. The cotton will absorb the moisture and it moves along the fiber. So what was once on the inside is now creeping to the outside of the bag. I never really had a problem with this bag until I started filling the bag to the top. Most of the time I only put 1 inside. But when I stuff 3 or 4 wet diapers inside they reach the top, soaking that long seam. I found it to be an annoyance but not something that I was ticked about. For reference this bag is 11 1/2″ x 12″.
After reading dozens of reviews for Leslie's Boutique wetbags I figured there had to be a difference between her bags and the one I had. I learned that Leslie sews the layers separate, hiding all seams. She also uses wooly nylon thread which prevents wicking as well (cotton thread will absorb moisture). Here is a picture of the outside and inside of a Leslie's Boutique wetbag:
Despite my horrible camera making the picture above look dark and blurry, you can see that there is no exposed seam by the zipper. This means that there is no cotton waiting for contact with moisture. Another huge positive with Leslie's Boutique wetbags is the increase in size. I bought a medium and it measures 13″x15″. This allows me to put in at least 2 more diapers than my Happy Tushies.
I have never used the handle on either bag but I will mention that the Happy Tushies has a snapping white cotton handle (not a standard feature) and the Leslie's Boutique wetbag has an elastic handle covered with matching fabric. The handles would be used when you hang the bag in your laundry room, bathroom or near the changing station to store diapers until wash time.
Since my purchase of the Happy Tushies wetbag they have improved their design to include a hidden inner seam. This would eliminate the wicking problem that my old style bag has.
I bought the regular sized Happy Tushies at a local boutique and paid ~$22. My sized M Leslie's Boutique Wetbag cost ~$20 (that includes priority shipping).
One more difference I noticed is in the fabric choices. Leslie's Boutique offers in demand designer fabrics with coordinating PUL inner. Happy Tushies has hundreds of fabrics to choose from but only at the end of choices did I see a couple of popular fabrics. It's all a personal preference though.
I'm really enjoying my new wetbag and I'm definately spreading my raves! But, I'll have to give one of the new Happy Tushies a try… you can never have too many wetbags!
Now for the trivia… what is the fleece tab inside my Leslie's Boutique Wetbag?? I have read something about an oil tab, but I can't find any info. Please educate me.
Autumn is a wife, mother, homeschool teacher, friend and most important a follower of Christ.